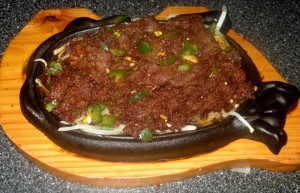 Restaurant: Shilla Korean BBQ & Sushi
Location: North Central, 6406 N I-35 Ste 2343, Austin, TX 78752 Map
Phone: (512) 453-4111
Price: $7-$15
Hours: Mon-Thurs 11am – 9:30pm, Fri 11am – 10:30pm, Sat 12pm – 10:30pm, Sun 1pm – 9:30pm
Food (8/10)
(8/10) Bul Go Ki
Marinated, shredded beef rib eye with onions and bell peppers. This bul go ki is absolutely delicious! And the portion size is pretty nice too. We asked for it to be cooked spicy, and they complied. You can tell that it has been marinated well. The tangy, sweet BBQ flavor just takes over your taste buds in a wonderful way. The beef is tender and sweet, and we only found a few chewy pieces. Cho Sun Gal Bi is another Korean eatery about a mile down the road and the cut and quality of beef at Shilla's is much better. This entrée came with eight small side dishes, which complemented the meat well. This is quite tasty, and we are motivated to try the Galbi next time we dine here.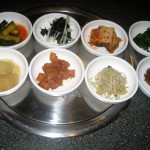 (5/10) Bi Bim Bob
Assorted vegetables, egg and shredded beef with steamed rice, served in heated stoneware. Served with chili paste on the side. The negative is that there was barely any beef in our bowl! The positive is that when we finally found a few pieces – they were tender and juicy. The bi bim bob fell flat in the flavor department. We added lots of chili paste to enhance the taste, but it didn't really help. There was also too much rice, not enough veggies and the beef was meager. This wasn't a winner, but the next dish more than makes up for it!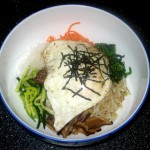 (9/10) Kimchi PaJun
Korean kimchi pancake with onions and scallions. For those of you who dislike kimchi, don't fret because this dish does not taste like kimchi at all. It does taste amazingly delicious though. The texture is a bit oily, soft and well…similar to a hotcake. The scallions and onions provide a satisfying little crunch and add to the flavor. These PaJun comes with a pleasantly spicy dipping sauce that has hints of teriyaki in it. Mmmmm we wouldn't mind having this kind of pancake for breakfast everyday!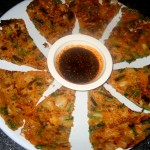 Service (5/10)
We dined on a weeknight and the place was virtually empty. When we walked through the door, there was nobody there to greet us for a few minutes, until we called out "hello?"  Then a woman came to the front and asked us to pick our seats. After we sat she took our drink order. It was extremely difficult to understand her English, and she spoke in one-word sentences. Our food was brought out in a timely manner. They also refilled the small sides that we finished. Our waters were not refilled until the end of our meal. We were also given a complimentary dessert – the waitress called it a "rice punch." It consisted of crispy rice, water, and brown sugar all boiled together. We wanted to compliment either the chef or owner on the food – but a 2nd waitress came out and said he wouldn't come out because he doesn't speak English. When we got our bill, we noticed that we were charged a different amount for the small bottle of sake. Before ordering it, the waitress said it was $5, but our bill said $15. Then the 2nd waitress came out and got one of those plastic upright table flyers from another table (our table was missing one) and pointed to the $15 price. We felt misled, but they wouldn't budge. Overall, the service left a lot to be desired.
Ambiance (6/10)
Shilla's is a hidden gem and not an easy restaurant to locate. It is in a somewhat sketchy looking parking lot across from Highland mall, and there is plenty of parking. The restaurant consists of a large single dining room with some bar seating, tables and booths. There is also a separate room that offers traditional seating (with recessed flooring) and floor cushions. There is a large, muted television in the main dining room. There are not too many decorations, but the restaurant is well lit, comfortable and spotless. This is a great place for small or large groups. You can cook your own BBQ in the middle of the table, and they also have a variety of sushi rolls. If you are ok with mediocre service but looking for exceptional Korean food, come into Shilla's for a bite.