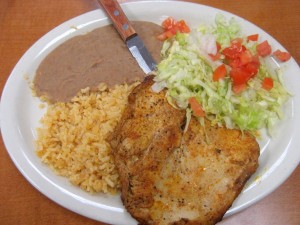 Restaurant: Amaya's Taco Village
Location: North Central, 5405 North I-35 Austin, TX 78723 Map
Phone: (512) 458-2531
Price: $6 – $10
Hours: Mon-Sat 7am – 10pm, Sun 7am – 3pm
Food (7/10)
(8/10)  Pollo A La Parrilla
Grilled boneless chicken breast with ranchero or queso sauce served with rice, beans and flour tortillas. The chicken is pretty tender and tasty. It was not dry, which is always a risk when ordering a boneless breast. Try putting the chicken, rice, beans and lettuce in the tortilla and drizzle on one of the sauces – yummy! The waitress offered to give us  both sauces on the side – the queso was thick and delicious and the ranchero had a kick to it.
(5/10) Village Tacos
Corn tortillas fried fresh, filled with seasoned boneless chicken or beef, topped with lettuce, tomatoes and cheese. This description sounds tantalizing, but the end result was not!  The fried corn tortilla  was greasy and overpowered everything else – we couldn't taste any of the insides! Also, we tried a bite of the chicken and the beef separately and they were both bland. On the plus side, the fixings tasted fresh.  If you want tacos from Amaya's stick to the not-fried variety such as their delectable breakfast tacos.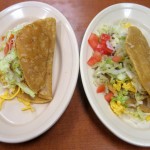 Service (7/10)

The service here is notable, considering it is packed during breakfast and lunch hours. We had a 5 min wait and then seated at a clean table. They give complimentary baskets of warm, fresh chips and fiery salsa. The waitress was friendly and our food came out lightning fast. She did not check up on us during our quick meal, but there were several waiters walking around, had we needed something. She took care of our bill in a quick manner as well, but we didn't feel rushed.
Ambiance (6/10)

Amaya's Taco Village is a cozy, reasonably priced neighborhood joint.  It resembles a brightly lit cafeteria, with plenty of seating. It is located in a strip mall so parking is not a problem. Parking is also available in the back of the building.  Amaya's is minimally decorated but clean and tidy. The lunch patrons are diverse, with all ethnicities and age groups represented.  Basically, this place is an affordable Tex-Mex restaurant with solid food and good service.