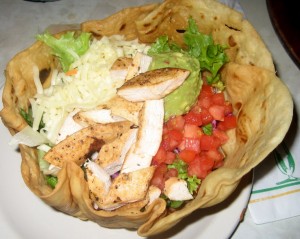 Restaurant: Chuy's
Location: North Central, 10520 N Lamar Austin, TX 78753  Map
Phone: (512) 836-3218
Price: $8-$10
Hours: Sun-Thurs 11am – 10pm, Fri-Sat 11am – 11pm
Food (7/10)
(5/10) Taco Salad
Tomatoes, cheese, guacamole, and chicken served in a chip bowl. This is a simple taco salad that lacks the southwestern flare that other places offer by including pico, corn, or beans. There is a sufficient amount of cubed chicken, but is flavorless and slightly hard. It felt like we were eating a large heap of lettuce and chicken…not very pleasing! On the plus side, the taco shell is addictive.
(7/10) Chicken Fajitas
Fajita chicken with grilled onions, flour tortilla, lettuce, guacamole, sour cream, cheese, pico de gallo, rice and beans. Our hunt for good fajitas in Austin ends here (notice we said good, not great). It comes served in a skillet, but it wasn't sizzling or aromatic. This could be because it wasn't submerged in oil, which is a good thing if you prefer health over flavor. The chicken pieces are large, white, and tender – one of the freshest tasting chicken we've had at a Mexican restaurant. However, it was more like grilled chicken rather than "fajita" chicken. The flour tortillas were above average and the assortment of fixings made it a very enjoyable to eat.
(7/10) Carne Guisada Burrito
Burrito stuffed with carne guisada (slow cooked beef), beans, and cheese. The first thing you will notice is the size of the burrito – its huge! The second thing you will notice is the flavor – yummy! This is not your typical burrito and perhaps that's why it's a daily special. The meat is very tender and flavorful, and our only complaint is that the refried beans made the burrito dry. Our recommendation is to order it easy on the beans.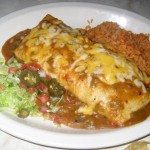 (7/10) Flan
Flan is an egg custard dessert that is a staple at nearly every Mexican restaurant. It can sometimes tastes a little caramelly. For the most part, there is little variation in texture and size between restaurants. The one at Chuy's is solid and had a great flavor – we had no complaints. End your delicious meal with this and go home happy!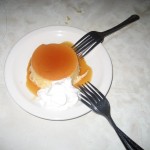 Service (7/10)
We expected Chuy's to be almost empty on a weeknight, but it was actually quite crowded. Luckily, they were able to squeeze us in without any wait but Chuy's does offer a waiting area where you can sit and enjoy complimentary chips and salsa. Our waiter was personable, friendly, and  did not get annoyed by our numerous questions about the menu. The service was very efficient and he checked on our table at appropriate times.
Ambiance (6/10)
Chuy's is a casual, fun Tex/Mex restaurant with over 10 locations in Texas. It began with one location in Austin nearly 30 years ago and has since become one of the most popular. Chuy's locations include large dining areas with a small bar and complimentary chips and salsa while you wait for a table. Be sure to ask for some creamy jalapeno dipping sauce – it is fabulous. The atmosphere is laidback cute, for instance Christmas lights hang on the walls. On weekends, be prepared to wait 1-2 hours for a table as it can get quite crowded! This is a great place to come enjoy tasty margartias and Tex/Mex cuisine with a group of family or friends.