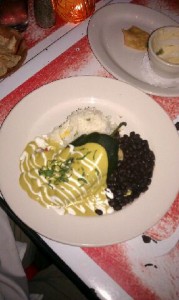 Restaurant: El Alma
Location: South Austin, 1025 Barton Springs Road, Austin, Texas 78704
Phone: (512) 609-8923
Price: $8 – $18
Hours: Sun-Mon 11am – 9 pm, Tues – Thurs: 11:00 am -10:00 pm, Fri-Sat 11am – 11pm
Food (7/10)
(8/10) Enfrijoladas
Tinga de pollo, black bean chipotle cream, queso fresco and pico. Served with corn slaw, avocado and white rice. This dish was mild and superb at the same time, with a nice presentation. The black bean chipotle cream sauce was mild but, flavorful. The texture was smooth and pleasing to the palate. The corn slaw was very good. I have never seen it served with avocado on top. The avocado was the perfect ripeness.
(9/10) Camaron Relleno Shrimp
Corn, mushroom and jack stuffed poblano. Chipotle salsa and crema. Served with corn pudding, corn slaw and queso fresco. The presentation was easily a 10. There were many big, succulent shrimp in this relleno – one in every bite! The Relleno sat in a chipotle salsa and crema bath. . Their chipotle is stellar, and I am not even a huge fan of chipotle because it is usually over-used! The corn pudding was a marvelous compliment and delicious too. The slaw was crunchy, not too sweet and served with queso fresco on it. We'd order this again and again.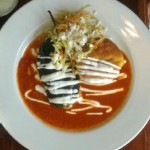 (9/10) Tortilla Crusted Crab Cake
With jalapeño pecan pesto, nopalito salad, queso fresco and spinach. A crowd favorite, we really enjoyed this dish! There was the right amount of crunchiness over the crab cake, and the jalapeno pecan pesto rocked. It was truly a fantastic pairing of flavors. And that Nopalito salad with spinach was muy delicioso.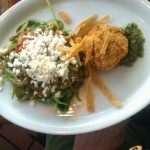 (3/10) Empanadas
Corn masa filled with mushrooms and cheese. Served with salsa picosa and guacamole. This dish was really disappointing compared to all of the wonderful other dishes we shared. The masa lacked in flavor.
Their Guacamole was made table side and was excellent. A few words must be said about the two salsas they serve at every table. The green salsa is like a tomatillo with lime. Way, too much lime. It is tart and was displeasing. The red-smoked salsa was very good. And their chips have the right amount of thickness and crunch.
Service (9/10)
We were there at approximately 1:00 pm and there were just a few other diners. We were greeted promptly and seated immediately. Our server enjoyed his job, he knew the menu very well and offered ideas and suggestions. He took our orders, checked back with us frequently and did a great job. The server had to go up and down the stairs many times to meet our needs when we drank and dined on the patio and never seemed to mind it.
Ambiance (9/10)
This is another uniquely Austin kind of place with a great menu. We dined inside for lunch during our first time there and then outside on the patio in early November. Both were just great. The location is great; right on Barton Springs. There are just a few front parking spaces and more in the back, up the hill. The place does not look like much from the outside, but the inside offers a unique Latin flare with indoor and patio dining. There is a full bar and a water fountain wall inside on the main level.
Note: If you dine on the patio it is a trek to the bathrooms. It's ok though because the view from the patio is worth it!
Background on the Food in this Review
Enfrijoladas: Originating from Mexico, enfrijoladas are a type of enchilada dish made by filling tortillas with various ingredients like chicken (tinga de pollo), cheese, or vegetables, and then covering them in a sauce made primarily from pureed beans (frijoles). These sauces often incorporate additional flavors such as chipotle to bring depth and spice to the dish. Traditionally, enfrijoladas are garnished with crumbled queso fresco and served alongside accompaniments like avocado, rice, and slaw.
Camaron Relleno Shrimp: This dish is a variation on the classic Mexican dish, chiles rellenos, where poblano peppers are stuffed, battered, and fried. In this version, shrimp, corn, mushrooms, and jack cheese are used as the stuffing for the poblano pepper. The pepper is then typically served with a chipotle salsa and crema (a Mexican style cream), providing a smokey, creamy, and slightly spicy counterpoint to the sweet shrimp and vegetables.
Tortilla Crusted Crab Cake: A fusion of American and Mexican cuisines, this dish involves making a traditional crab cake, but with an exterior crust made from crushed tortilla chips. This gives the crab cake a uniquely crunchy texture and adds a subtle corn flavor. The crab cake is served with jalapeño pecan pesto, nopalito salad (a salad made from prickly pear cactus pads), queso fresco, and spinach.
Empanadas: Empanadas are a type of pastry that is popular in many Latin American countries, including Mexico. They are typically made by filling a dough (often corn masa) with a variety of ingredients, such as meats, cheeses, or vegetables, and then baking or frying them. The result is a handheld dish with a crispy exterior and a flavorful, savory interior.
Reviewed by Linda, AustinFoodRatings.com