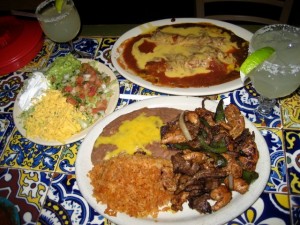 Restaurant: Enchiladas Y Mas
Location: Northwest Austin, 1911 W Anderson Ln Austin, TX 78757 Map
Phone: 512-467-7100
Price: $6-$10
Hours: Mon – Closed, Tue-Sat 7am – 9pm, Sun 7am – 2pm

Food (6/10)
(6/10) Fajita Plato
We ordered the chicken and beef combination fajitas and as the name says, it comes on a regular plate rather than a sizzling cast iron pan.  The meal includes rice, refried beans, a huge chunk of guacamole, sour cream, cheddar cheese, pico de gallo, and your choice of flour or corn tortillas.  The chicken is tender and flavorful (better than Texican Cafe), however the beef is chewy. The flour tortillas are average – something you could pick up from the grocery store. We ordered the fajitas for one, however the portions are enough for two. We'd order this dish again, but next time sticking to chicken only.
(5/10) Enchilada Rancheras
With Enchiladas in the name of the restaurant, we thought we would be having some of the best enchiladas ever. However, we were very disappointed by these wimpy enchiladas. It has beef, ranchero sauce, cheese, and chili con queso – rice and beans are $1.50 extra.  There is hardly any beef and the enchiladas are literally swimming in a pool of sauce and cheese (check out the photo above). We won't be ordering enchiladas here next time!
Service (5/10)
The staff at Enchiladas Y Mas is friendly but the service was not up to par with other restaurants. We were promptly seated and the food came out quickly, but the waitress was not attentive. She did not check up on us and we had to flag her down for extra tortillas (which they charge for) and for the bill.
Ambiance (5/10)
Enchiladas Y Mas is a very modest, no frills restaurant on Anderson Lane in North Central Austin. Parking can be difficult and the lot is not lit. If you are looking for a lunch spot or a casual weeknight dinner, this place could be right for you.