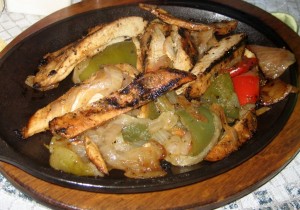 Restaurant: Iguana Grill
Location: Northwest, 2900 RR 620 Austin, TX 78734Map
Phone: (512) 266-8439
Price: $8-$15
Hours: 11am-10pm 7 days a week
Food (5/10)
(4/10) Chicken Fajitas
Chicken marinated in pineapple juice, orange juice and a splash of beer, grilled and served with Mexican cheese, pico de gallo, frijoles, sour cream and flour tortillas. With a description like this one would expect out-of-this world fajitas but we were sorely disappointed. Many of the chicken strips are fatty/chewy and overall lacks the "fajita" taste. We have ordered this at many restaurants and these were far below average. Even the tortillas were plain.
(4/10) Flautas
A grilled enchilada served over charred tomatillo sauce and topped with sour cream, served with rice, pinto beans, guacamole, and cheese. The picture of the dish (shown below) looks mouth-watering, but like the other items at Iguana Grill, it was bland except for the crunchy tortilla that was burnt (blah!).  The enchilada is lightly stuffed and feels like you are eating air. Stay away from this one!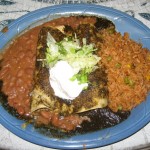 (6/10) Pechuga de Pollo
Grilled chicken breast topped with charred tomatillo salsa and served with rice and mixed vegetables. This is one of the more light and plain options from the menu. The grilled chicken is a bit more dry than we've had at other Tex-Mex restaurant.  We were told by the waitress that the salsa is very spicy, but it ended up being mild but flavorful. The rice is better than average and includes corn in it. The zucchini and carrots, although plain, complements this dish well.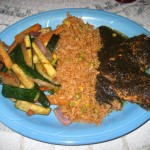 Service (5/10)
We dined at Iguana Grill on a Friday evening and expected there to be a large crowd. However, the restaurant was not even 1/4th occupied and our large group was seated right away. The waitress took our food and drink orders efficiently, however she lacked personality and attentiveness.  She did not ask us how the food was or if we needed anything during the entire evening.  For a place with live music and drinks, you would expect the waitstaff to be a little lively or upbeat, however she was very dull.
Ambiance (7/10)
Iguana Grill is located in scenic Northwest Austin overlooking Lake Travis. Plenty of seating is available outdoors (covered and uncovered) as well as indoors. Many patrons dine here for the great view of the lake and sunset which we also enjoyed. However, its view falls short of the popular restaurant, Oasis, since Iguana Grill is at a lower elevation.  There is live music on weekends. For a list of upcoming performances do visit the restaurant's website. Parking is adequate although it is pretty dark at night.