Restaurant: Magnolia Cafe
Location: South Austin, 1920 South Congress Ave Austin, TX 78704 Map
Phone: 512-445-0000
Price: $7-$11
Hours: 24 Hours a Day/7 Days a Week
Food (7/10)
(8/10) Loaded Baked Potato Omelette
This item is listed under "Today's Specials" and is not on the menu.  It consists of 3 eggs, cheese, baked potato pieces, small strips of bacon and is topped with sour cream and scallions.  The omelette is pretty good but a little bland.  It needs either ketchup, salsa or some kind of sauce/dip. We chose hollandaise sauce and it helped bring out the flavors. The omelette comes with 2 side dishes, but we substituted with a short stack of gingerbread pancakes instead!
(7/10) Gingerbread Pancakes
The short stack comes with 2 giant pancakes.  The pancakes are somewhat fluffy and had the right amount of gingerbread flavor.  It is basically the pancake version of a soft gingerbread cookie.
(5/10) Mango Pancakes
This item is also listed under "Today's Specials" and sounded fabulous! Mango with anything is usually a hit, but we were disappointed in these pancakes.  They are somewhat fluffy as well, but the flavor not so pleasing!  The bites that had mango pulp were ok, but the other bites tasted banana-ish and dry.  We'd pass on these.
(8/10) Veggie Taco
This taco has avocado, black beans, cheddar and jack cheese, tomato, sprouts, sour cream and hummus inside a flour tortilla.  This hummus was an added option, but we think it is a bit on the runny side.  The sprouts are good and tasted fresh.  Perhaps its better to get this dish without adding the hummus.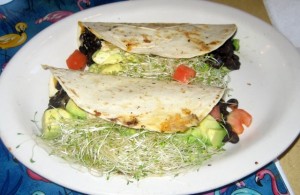 (6/10) BBQ Chicken Enchiladas
These unique enchiladas are filled with grilled chicken breast, pico de gallo, and BBQ sauce and topped with queso and chipotle.  It is stuffed generously with spicy chicken.  Some might find the BBQ flavor of the chicken and the Mexican spices a little conflicting.  The ends of the enchiladas are a bit chewy and hard, and this dish is drier than traditional enchiladas and could use more queso.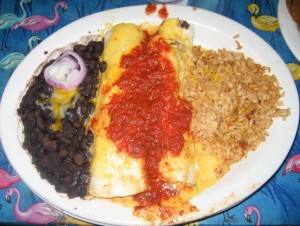 Service (5/10)
Our waitress was scatterbrained…we had to ask for things several times!  She was pleasant, just forgetful.  Service seemed rather slow.  To her credit, we did have a large group and Magnolia's was packed because it was Saturday afternoon.  But still, orders came out slightly wrong.  We didn't mind too much because we were starving from waiting an hour to be seated!  Another inconvenience to be aware of is that Magnolia's doesn't split checks more than 4 ways for larger groups.
Ambiance (7/10)
Magnolia Café is a colorful, funky place that is doing their part to "Keep Austin Weird."  This brightly decorated restaurant gives off the typical laidback vibe that Austin is famous for.  There is seating inside and a covered outdoor patio as well.  There is only one restroom each for men and women so don't drink too much!  Parking can be difficult due to the location of Magnolia Café, but there are a few lots available to circle around until you find a spot.