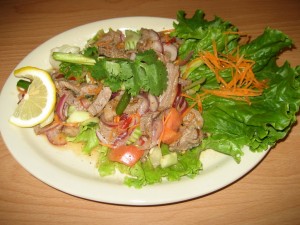 Restaurant: Pad Thai
Location: North Central, 1201 Barbara Jordan Blvd. Austin, TX 78723 Map
Phone: (512) 469-1778
Price: $6 – $11
Hours: 11am – 10pm, 7 days a week
Food (6/10)
(5/10) Yum Nuer (Beef Salad)
Thinly sliced beef with onions, tomatoes, cucumbers, on top of a slice of lettuce, topped with a chili-lime dressing. The flavor was pretty good but the quality of the beef was terrible and the dish was rather small. Every single piece of beef had some fat or ligament on it. Very unappetizing and disappointing. For a truly delicious and well-made yum nuer – try Titaya's Thai Cuisine!
(7/10) Pad Kee Mao
Flat rice noodle stir-fried with onions, mushrooms, basil, tomatoes, bell peppers and fresh chili. This dish can be ordered with chicken, beef, or pork. We opted for the pork because it was recommended by the waitress. The pad kee mao tasted pretty good and had the right amount of seasoning. We asked for mild spiciness and were glad they complied. The noodles were cooked well, and the pork was flavorful but a tad on the dry side.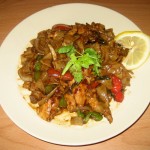 Service (7/10)
We came during the lunch crowd, yet the small restaurant was moderately full. The hostess was friendly and seated us quickly. Due to the afternoon rush, our food came out promptly. Our waitress was unsmiling but efficient, and she dutifully checked up on us once while we ate. This is a good alternative to getting fast food during your lunch break, because you can squeeze in a decent Thai dish in under an hour.
Ambiance (5/10)
This eatery is located in a well-maintained strip mall, so parking is aplenty. Like its un-original name, the interior of Pad Thai is plain and has simple décor. The booths we sat in were clean but quite uncomfortable. We were not able to lean back at all because the table is too far from the seats. Pad Thai is good for small or large groups, and is a low-key place. The affordability of the dishes make this a good lunch option, but experienced Thai food lovers may be dissatisfied with the quality of the food.