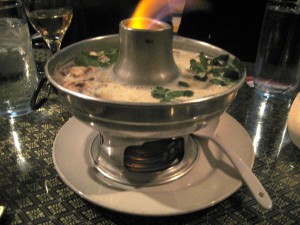 Restaurant: Titaya's Thai Cuisine
Location: North Central, 5501 N Lamar Blvd Austin, TX 78751 Map
Phone: (512) 458-1782
Price: $7 – $14
Hours: Mon-Fri 11am – 3pm, 5pm – 10pm Sat-Sun 12pm – 10pm
Food (7/10)
(6/10) Tom Kha
Thai coconut soup flavored with galangal, lemongrass, lime juice, Thai chillies and fresh mushrooms, topped with cilantro. This dish, like the Yum Nuer is usually a good measure of Thai restaurant quality. Unfortunately, Titaya's fared about average due to lack of taste in this dish. We opted to get tofu and it is definitely the fanciest set-up we have seen, because they bring the soup out piping hot in a firepot. There is easily enough to feed four because of the thick, hearty pieces of tofu and fresh mushrooms. We didn't taste much chili or cilantro – perhaps the proportions were off because it tasted like pure coconut milk. Maybe we will try the Tom Yum soup next time.
(7/10) Crispy Egg Roll
Golden fried egg rolls stuffed with bean thread noodles, black mushrooms, cabbage and carrots. Served with house sweet and sour sauce. We ordered the vegetable egg rolls and they were pretty good! Aside from being extremely oily on the outside (thinking of egg rolls bathing in a little puddles of oil) they were hot and tasty. Perfect amount of crunch and the insides were yummy. The sweet and sour sauce complemented the egg rolls well.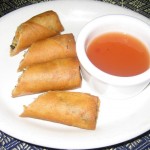 (7/10) Gang Kiew Warn
Green curry and herb with bamboo strips, eggplants, fresh basil leaves, zucchini and bell peppers in coconut milk. We were a bit apprehensive at first when ordering this dish because we don't like curries that are too heavy on coconut milk. However, we were pleasantly surprised because this has only a hint of coconut flavor which allowed the green curry taste to come through. The curry was delicious and had the right amount of spice.  The portion is larger than at most restaurants and we loved the chunkiness of the curry.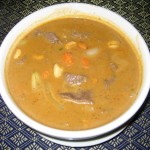 (7/10) Pad Priew Warn
Choice of meat stir-fried with onion, cucumbers, tomatoes, pineapples, bell peppers and mushrooms in house sweet and sour sauce. We felt like we were eating a Chinese dish when we dug into this one (not that there's anything wrong with that!). Our meat of choice was chicken but were disappointed at how much they skimped out on it. There was only a handful of chicken chunks in the entire plate and felt like we were just eating vegetables. The house sweet and sour sauce is your typical no-frills sauce but went very well with this combination of vegetables. The pineapples added an extra oomph to an already solid dish. Overall, we were happy with this dish but if you want something more authentic, try the Pad Kee Mao.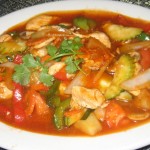 (7/10)  Yum Nuer (Beef Salad)
Sliced grilled beef sirloin with onions, tomatoes, cucumbers, carrot, bell pepper and green onions mixed in house chili-lime dressing. Many Thai restaurants are not able to get this dish right, so we were hesitant to order it. However, we were pleasantly surprised at its deliciousness! They were generous with the tender strips of marinated beef, and the greens tasted fresh and complimented the meat very well. The chili-lime sauce is fantastic and although we asked for mild, it still cleared up our sinuses. Just writing about this is making us want to go back and order more!
[Update]: We dined at Titaya's a second time and ordered this dish since we loved it so much. However, this time the beef was very chewy and we struggled to finish the dish. Definitely not as enjoyable as it was the first time. Because of this, we are lowering the rating from 8/10 to 7/10.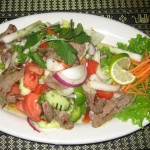 (9/10) Pad Kee Mao
Flat rice noodle stir-fried with onions, straw mushrooms, fresh basil, tomatoes, bell peppers and fresh Thai chili. This dish can be ordered with chicken, beef, pork, tofu, shrimp or vegetables. We ordered this dish with chicken and asked for mild spiciness. What a culinary delight! By the way, at Titaya's, mild seems to be the right amount of spiciness for us, and we usually can handle spice pretty well. The chicken was soft and juicy. The flat noodles were cooked just right and extremely addictive. The flavors of the Pad Kee Mao were perfect – we just wish the portions were larger and there was more chicken! Finally a great Thai place in Austin. With high hopes, we moved on to dessert…
(7/10) Sticky Rice with Mango
Thai sweet rice, bathed in coconut milk and topped with fresh mango slices. We were apprehensive because it was our first time trying this. The warm, sticky rice made this a fun dessert, and the coconut milk is a nice touch. The mango was fresh and added a fruity sweetness to an already sweet dessert. It was just as enjoyable to eat them separately as it was to eat them together.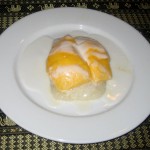 Service (8/10)
We dined at Titaya's on a busy Friday night, but only had to wait a couple of minutes before being seated. We excitedly perused the menu since we were starving! Our waitress was friendly and very efficient. Whenever we had requests, she fulfilled them right away, even before tending to her other tables. She also picked up our dishes as soon as we were done with them, unlike some restaurants that just let the empty plates sit and get in the way. This was easily one of the better services we've had at an Asian restaurant!
[Update]: On both occasions that we dined here, the service was friendly and consistent.
Ambiance (6/10)
Located in a run down strip-mall on Lamar, Titaya's is a place you might drive past and ignore. However, don't let the exterior of this hidden gem fool you. Titaya's is a bustling restaurant with an extensive menu, full of authentic Thai food. Their lunch specials offer the best bang for your buck and the dinner prices are quite reasonable as well. When entering the restaurant you will be greeted by simple, tasteful decor. It seems good for small groups and couples. The tables, floors and walls are clean and the food was aromatic. We admit that it feels slightly cramped because of the low ceilings and close proximity to other patrons. However, due to the affordability and quality of food – we will be visiting this establishment often!