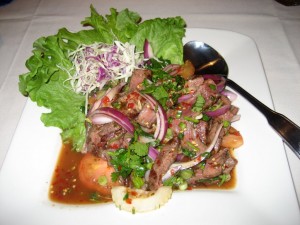 Restaurant: Thai Cuisine
Location: Northwest, 4101 West Parmer Lane Austin, TX 78727Map
Phone: (512) 835-7888
Price: $8-$13
Hours: Mon-Thu 11am – 2:30pm, 5pm-9:30pm, Fri 11am – 2:30pm, 5pm – 10pm, Sat 12pm – 3pm, 5pm -10pm, Sun 12pm – 3pm, 5pm – 9:30pm
Food (5/10)
(3/10) Yum Nur
A salad of grilled top sirloin tossed with Thai chilies, onions, scallions, cilantro, tomatoes, cucumbers and fresh lime juice. This is one of our favorite dishes at Thai restaurants but this one is quite disappointing. The beef came out rare and was very chewy. We spoke to manager about this and she said this is how Yum Nur is everywhere, but we have never had it like this before. She offered to cook it more, but that made it even more dry and chewy. See the Service section below for more details on how this was handled.
(8/10) Kang Keow Warn (Green Curry)
Spicy green curry, coconut milk, bamboo shoots, eggplants, bell peppers, kaffir lime leaves and sweet basil. Wow! This is one of the best curries we've had. It is incredibly flavorful and addictive, but also beware the spice packs a punch. We ordered this with chicken which was tender and plentiful. Also, the portion is large enough to split amongst 2 people. This dish is a must!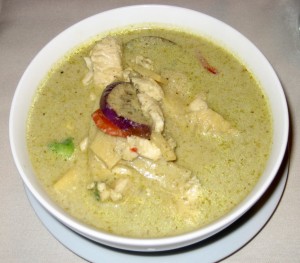 (5/10) Pad Thai
Stir-fried rice or glass noodles with eggs, bean sprouts, scallions, fried tofu, optional with ground peanuts in Thai special sauce. Pad Thai is a standard dish at all Thai restaurants but can vary quite a bit from place to place. Unfortunately, this is one of the weaker dishes we've had. Since there is very little sauce,there is no flavor or spice in this dish. You will need to add some chili sauce. If you are in the mood for flavorful Pad Thai, try Madam Mam's.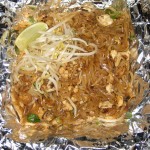 (6/10) Pad See Ewe
Stir-fried fresh flat rice noodles with Chinese kale, eggs and scallions in black soy sauce. This dish is as plain as the description sounds. The flat noodles were cooked adequately and were delicious, but overall the dish lacked a distinctive flavor. This dish is light on the sauce like the Pad Thai and must be eaten with chili or soy sauce. If we go again, we will try the Pad Kee Mao.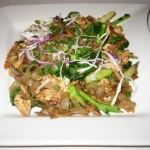 (5/10) Service
Even though we dined here on a Saturday night, the restaurant was not even 1/4th occupied. Our waiter was friendly and took our beverage and food orders. However, this was the end of a relaxing dining experience. As we mentioned earlier, the beef in the Yum Nur was very chewy. We told the waiter this and he offered to take it back and order another dish. We took him up on this offer and ordered the Pad Thai, however he came back a couple minutes later saying the chef said this is how Yum Nur is supposed to be and they will cook it longer since it was rare. We agreed to to this but it struck us as odd that they were so hesitant to replace the dish with something else. When it came back out, the beef was even chewier and I tracked down the waiter to order the Pad Thai again. He happily agreed to do this, but several minutes later the manager came to our table to convince us that this is how the dish is made. Since they had not begun making the Pad Thai, we told her to cancel it. To add to the mess, the Pad Thai did actually end up coming out later. Overall, we were disappointed at how the staff handled an unhappy customer and how much confusion this brought on.
(5/10) Ambiance
Thai Cuisine is a new restaurant that opened December 2008 in a nice strip mall in Northwest Austin. The interior is colorful and modern, yet plain. This restaurant does not have that quaint and cozy feel that many Thai restaurants seem to have – instead it had a very generic feel to it. There are plenty of tables, which makes it great for groups and parking is plentiful. However, if you are looking for a quiet dinner, stay away from here! The restaurant is one large open room, and the background CD music was not subtle at all.