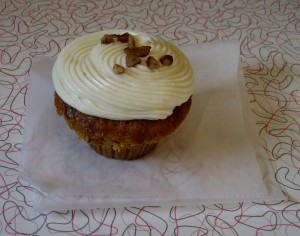 Restaurant: Hey Cupcake!
Location: Central, 5530 Burnet Road, Austin, TX 78756 Map
Phone: (512) 476-2253
Price: $2.75
Hours: Tues -Thurs 9am-9pm, Fri 9am-10pm, Sat 11am-10pm, Sun 12pm-8pm
Food (5/10)
(4/10) 24 Carrot
Cream cheese top, carrot cake. The cream cheese is definitely creamy and delicious. The carrot cake looked moist, but unfortunately was on the brittle side. It had all the right ingredients, including nuts and raisins, but it was still pretty bland. It seemed as if they might have left out a vital ingredient – such as the carrot itself! Or perhaps the cinnamon or sugar because it was lacking in sweetness. Hopefully we fare better with our next choice…can't go wrong with chocolate right?!
(6/10) Double Dose
Chocolate buttercream top, chocolate cake. This is a solid cupcake. We were pleased to find that the chocolate buttercream had a rich texture and chocolaty taste –  because buttercreams are usually a little lighter. Seriously…Hey Cupcake has got the icing part down! The cupcake was moist but a little spongy.  Even though it was solid, there was nothing that set it apart from cupcakes elsewhere. Next time we would try the Michael Jackson or the Sweetberry.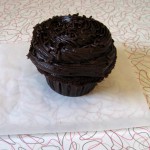 Service (5/10)
We came on a Friday afternoon and the place was empty. The girl behind the counter was nice and took our order promptly. Although it is more fun to eat cupcakes by stuffing your face, it would have been nice to have the option to use plasticware. We also wished they had a jug of water or a water fountain because one of the cupcakes was a bit dry. Our table had many crumbs and icing smears on it, so we made sure to use the napkins to clean and bus our table after we finished eating. The service was fine but Hey Cupcake can add small touches to make the experience better.
Ambiance (6/10)
This is the only location that is actually in a building, because all the other locations use an airstream trailer. However, this Allandale location does use a trailer inside as part of the decor.  The interior is very minimalist and mildly cute, with shirts for sale hanging on the walls. There were only three tables and six chairs, which was fine since it was empty. But if it were a busier day – that might pose an issue. For a bakery that specializes in cupcakes, we were hoping to find a larger selection and more unique flavors. We are still on the lookout for a place in Austin that has phenomenal cupcakes and will keep you posted!