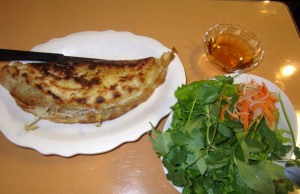 Restaurant: Le Soleil
Location: North Austin, 9616 N. Lamar Blvd, Ste 156, Austin, TX 78753 Map
Phone: (512) 821-0396
Price: $7-$12
Hours: Mon – Fri 10am – 10pm, Sat 10am – 2am
Food (5/10)
(5/10) Vietnamese Seafood Crepe – Banh Xeo Hai San
Rice flour crepe with bean sprouts, onions, shrimp, calamari and mung bean. Served with carrots, cucumber, mint leaves, lettuce and fish sauce. The crepe itself was decent but didn't have enough crisp to it. The sprouts, onions and mung beans complemented each other well. There was barely any shrimp or calamari inside. We had to pour a lot of fish sauce on top, and we forgot how much sodium that sauce contains. If you order this appetizer, be sure to drink lots of water afterwards!
(5/10) Shaken Beef – Bo Luc Lac
Tender square pieces of beef with garlic, cooked quickly on high fire served on top of lettuce. We wanted to see if this dish would live upto it's reputation at Le Soleil. Unfortunately, it did not impress us in the least. It almost tasted like a dish you could order at Panda Express. Actually, the beef at Panda Express might be a little more flavorful (albeit also unhealthier). The beef was tender and did possess a little garlic flavor. The lettuce and tomatoes tasted fresh. This dish was served with a lemony-pepper type sauce, which added a little oomph. Maybe we'll have better luck with our next entree.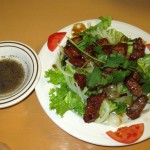 (6/10) Combination Rice's Clay Pot – Com Tay Cam Thap Cam
Stir-fried chickens and prawns with straw mushrooms, ginger, onion and special rice. This pot was pretty good. The chicken and prawns had a good flavor. We noticed that we only got 3 pieces of prawn – and not too much chicken either. We felt somewhat jipped! The mushrooms, ginger, and onion added a yummy earthiness to the dish. Out of the 3 dishes we tried, this one was the best.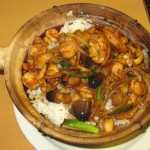 (5/10) Service
We called ahead to make sure they were open, and a gruff, impatient man answered the phone. He sounded unpleasant but did answer our question. After we got to the restaurant, we were seated immediately. Nobody came to get our drink order for a little while, but there were very few staff to begin with. Our waiter was all business, and could definitely use a few pointers about how to interact with patrons. Still, he was efficient with our order, and our waters were refilled promptly. After we were finished eating, it took a while to get our bill. We can only hope the service is better when they are less busy.
(5/10) Ambiance
Le Soleil is located in a strip-mall. The ambiance is forgettable…bright walls without any decor. Very plain, with a large mirror on the side walls. There is an aquarium in the front, and one or two plants that seem their only function is to attempt to hide some speakers. It's a good thing Le Soleil's food is not as bland as their decor. Still, the food and ambiance also leave something to be desired.  Instead of coming here, we recommend Sea Dragon because they have better quality food and an extensive menu.