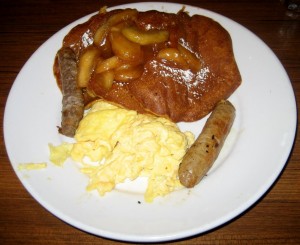 Restaurant: Mimi's Cafe
Location: North Austin, 10515 N. Mopac Expy, Austin, TX 78758 Map
Phone: (512) 241-0309
Price: $8 – $15
Hours: Sun-Thu 7am – 10pm, Fri – Sat 7am – 11pm
Food (8/10)
(9/10) Pumpkin Pancake Breakfast
Four pumpkin pancakes topped with cinnamon caramel apples, two eggs as you wish, choice of bacon or two fat sausage links and choice of freshly squeezed juice. These are fabulous knock your socks off pancakes! Generous portions – enough for two to happily nibble on for a while. The cinnamon apples are hot, sweet and make a great topping. We didn't even need syrup, but added a little and it felt like we were eating dessert. We chose sausage links and scrambled eggs and they were also tasty. The apple juice definitely tastes fresh, much to our pleasing. We underestimated Mimi's because it happens to be a chain, but they impressed us in several ways. These pancakes are better than the mango and the gingerbread ones at Magnolia Cafe.
(7/10) Croissant Provencal
A butter croissant filled with scrambled eggs, sautéed with sun dried tomatoes, brie cheese, sliced tomatoes, garlic spinach, tomato aioli, and choice of freshly squeezed juice. It is served with red skin potatoes. This is pretty yummy…the croissant was a tad over-toasted but all the ingredients inside went well together. The sun dried tomatoes and brie add a nice French touch to this sandwich. The spinach tastes fresh and the eggs are good. There wasn't enough brie though, and we couldn't really taste the aioli sauce. The potatoes are solid and seasoned just right! The orange juice is fresh and sweet, containing trace amounts of pulp. Order this, but ask them to lightly toast the croissant.
Service (9/10)
We lunched here on a busy Sunday afternoon. When we arrived, we were greeted with a smile by the hostess and informed that there's a 15 minute wait. After waiting only 10 minutes or so, we were taken to our table. Our friendly waitress was knowledgeable about the menu and answered all questions that we had. Our food came out in a reasonable amount of time, and our waitress checked up on us once during the meal. We mentioned that it was our first time there and thoroughly enjoyed the food. She told us that she would get us a complementary muffin basket to show their appreciation. Katy, the personable and gracious manager came to our table to greet us and give us the treat. We assumed she would give us a couple of mini bite-sized muffins to try out as a dessert, but we were shocked as to what we got! She brought a container of four assorted giant muffins for us to take home. Wow! We couldn't believe that any eatery would do this for newbies, let alone a national chain like Mimi's Cafe. Needless to say, we were thoroughly impressed with the service and how well we were treated.
Ambiance (8/10)
Mimi's Café is located in the Arbor Walk Shopping Center. There is plenty of parking available. Although you may mistake Mimi's for a Mexican restaurant due to its bright yellow exterior with colorful accents, they were aiming for a quaint French cottage look.  The inside has a mix of New Orleans/French style with lots of vintage décor adorning the walls. There are three large eating areas with booths and tables and a quaint little bar near the front. The booths are very comfortable which made our backs happy. We are looking forward to trying some entrees, desserts, and drinks at this charming bistro sometime in the near future. Although we fully support and enjoy eating at local eateries, make an exception for this chain restaurant, especially for breakfast or brunch!