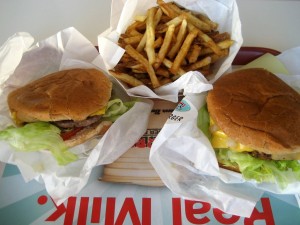 Restaurant: P. Terry's
Location: North Central, 3303 N Lamar Austin, TX 78705  Map
Phone: (512) 371-9975
Price: $2-$4
Hours: 11am – 11pm 7 days a week
Food (6/10)
(6/10) Cheeseburger
100% all natural black angus beef patty, American cheese, lettuce, tomato, and special sauce. Being In-n-Out lovers, we have been itching to try P. Terry's after reading the comparisons between the two burger joints. Unfortunately, this is another place that just doesn't stack up. The cheeseburger here is about the size of a McDonald's burger – and we all know how small those are. The beef patty, although delicious, is very thin and the bun size was on the small-side. The "special sauce" is basically just mayo with some ketchup and mustard in there – nothing special about it. On a positive note, they offer a wheat bun for 20 cents extra which was yummy. Overall, the burger was tasty but it was not satisfying.  For a few dollars more, you can enjoy  a truly amazing mouthwatering burger from Artz Rib House.
(6/10) Veggie Burger
Veggie patty, American cheese, lettuce, tomato, and special sauce. The veggie burger is highly recommended on other review sites so we had to give it a try. Veggie burgers are a nice alternative when you are not in the "meaty" mood and often times can be quite satisfying. The patty here is made of potatoes and beans and is pretty good. The patty itself did not have too much flavor, but when fully dressed everything went well together. The size of it is the same as the cheeseburger, so it left us wanting more. But at $4 a piece, it just isn't worth it. If you are looking for something better, try the black bean burger at Chili's.
(5/10) French Fries
Fresh cut fries prepared in 100% canola oil. When we hear about freshly cut fries, we usually imagine soft, thick, potatoey and mouthwatering fries. However, these were a big let down. They were very thin and empty feeling – it was not potatoey.
Service (8/10)

P. Terry's is a fast food burger joint where you order at the cashier and wait for your order to be prepared. The menu is simple and there was no line so ordering was a breeze. We were trying to decide if we wanted to order fries or not, so the friendly cashier went to get us a sample to try. She spoke to someone (who turned out to be the manager) and he came over and handed us a full order of fries on-the-house! You won't get that kind of service at McDonalds.
Ambiance (8/10)

The ambiance is far from the typical fast-food place that sells $2 burgers. This North Lamar location is brand new and features plenty of indoor and outdoor seating and parking, unlike their South Lamar location. The interior is bright, shiny and new, but with a diner look. The mix of metal, wood, glass, and stone combine to bring a unique architectural style to a place you would least expect it.  For those on the go, they also have a drive-thru for your convenience.  Try out P. Terry's for yourself and let us know what you think.