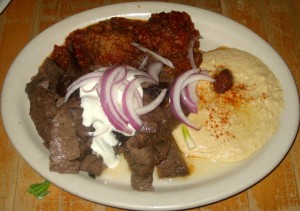 Restaurant: Zorba Greek Restaurant
Location: Round Rock, 2701 S IH-35, Round Rock, TX 78681 Map
Phone: (512) 716-0100
Price: $8-$14
Hours: Mon-Thurs 11am – 2:15pm,  5pm – 930pm, Fri 11am-2:15pm, 5pm-10pm, Sat 11am-10pm, Sun 11am-9pm
Food (6/10)
(5/10) Spanakopita
Sautéed spinach and moist feta wrapped in layers of phyllo dough, then baked until crispy. Also available with feta and herbs.  We loved this side-item at Tino's Greek Cafe, but it is disappointing here. It was not flavorful at all and ended up being soggy instead of crispy.  We'll skip this one next time.
(7/10) Kefthes
Greek style meatballs baked and served in our treasured Old World sauce. These huge meatballs are packed with flavor with a touch of spiciness. It is served with a mouthwateringly delicious marinara sauce that complements the zesty meatballs well. Yumminess.
(7/10) Gyro Plate
A delicious blend of lamb and beef, roasted on a vertical broiler and sliced thinly. Topped with tzadziki and served with rice pilaf and hummus. The hummus should have been thicker and retain more of a chickpea flavor, but instead it was thin and too lemony. The rice was pretty good but also had bit of lemon flavor. The main part of the dish however was excellent. The gyro meat was delightfully moist, tender, and savory. The tzadziki sauce was not even necessary but added some welcome creaminess to the dish. All entrées were served with melt-in-your-mouth pita bread and we were impressed with the softness and temperature hotness of the pitas!
(5/10) Pastichio
This classic Greek dish has layers of pasta blended with ground beef, sautéed in herbs and spices. Topped with six different types of cheese. When the waitress brought this to our table, we thought it was a giant slice of cake! We were excited to dig into it because it looked so unique, but this dish let us down severely. It lacked flavor and we weren't sure where the six types of cheeses were. It felt like we were eating a bad version of Chef Boyardee's Beefaroni that was molded into a cake. Stay away from this one!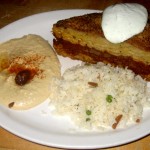 (6/10) Spinach and Chicken
A plate of roasted chicken, with sautéed spinach, mushrooms, onions and bell peppers.  This was another unique dish that we wanted to try but had mixed feelings about it. Let's start with the vegetables. The medley was unoriginal due to the lemony taste similarly to the hummus and the rice. It was also over-salted. The chicken chunks were plentiful and had good flavor, although significantly less than the gyro. Since these were chicken breasts, it was on the dry side and needs plenty of tzadziki sauce.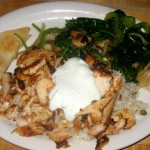 Service (8/10)
Zorba's is a cafeteria-style eatery in the day, but a sit-down restaurant at night. We came here for dinner and were very pleased by the level of service. We entered the restaurant  and were immediately greeted by the hostess and taken to our table. Our pleasant waitress took our drink orders and came back regularly until we had decided on what to order. Most of the entrees come with rice and hummus but you are allowed to substitute these with their appetizer selections with no additional charge. This is a great way to sample a variety of items from their menu. After we placed our order, we received a complimentary large salad to whet our appetite. Be careful though, all the portions here are huge so pace yourself! Our waitress checked up on us a couple of times during our meal and refilled our beverages. When it was time for the bill, she offered to split the bill for our small group. Overall, the service was friendly and efficient sans any issues.
Ambiance (6/10)
Zorba's is a small restaurant located in a Round Rock strip-mall that is close to Dell. It is a very casual eatery with simple table/chairs, tile floors and fluorescent lighting. The walls are decorated with beautiful murals of Greece, which adds authenticity to this suburban locale. They do not have a liquor license, so patrons are invited to bring their own bottle of wine. There is a $3 cork fee for the first one and then $1 for each additional.  Finding parking is not a problem since it is in a mall. Its proximity to Dell makes it a popular lunchtime option so beware of the long lines. Since we have mixed feelings about this place, give it a try for lunch first instead of paying slightly higher prices for dinner.