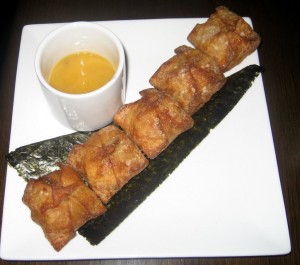 Restaurant: Imperia
Location: Downtown, 310 Colorado St, Austin, TX 78701 Map
Phone: (512) 472-6770
Price: $15-$30
Hours: Mon-Wed 4pm – 12am, Thurs-Fri 4pm – 1am, Sat 5:30pm – 1am, Sun 5:30pm – 12am
Food (5/10)
(6/10) Balinese Vegetable Samosas
This dish is listed under the dim sum part of the menu. It's about 5-6 mini samosas – the inside consisted of potatoes and peas in a deep fried outer shell similar to a crab rangoon.  A word of caution…the potato stuffing was so temperature hot that it burnt our tongues! So wait a few minutes before eating them. The samosas were slightly spicy and came with a side of mango chutney. If the chutney had tasted more authentic, it would have complemented the samosas well.
(6/10) A Hot Mess
A mediocre roll with snow crab, lobster and shrimp, served over honey avocado and baked. Although the description of this roll sounds enticing, it unfortunately  lives up to its name. The flavor was great and had a nice kick but since there was no texture and is mushy. It was falling apart before we could transport it safely to our hungry mouths! Literally a hot mess. We also couldn't taste any fish in this roll. We will admit that the measly 6 pieces did have a nice presentation.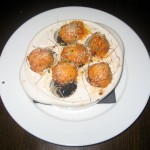 (5/10) Sashimi Combination
The combo includes 2 pieces of the following fish:
Tuna – pretty good, no complaints here
Salmon – a little too firm because it was colder than room temperature
Yellowtail – decent but not completely fresh tasting
Albacore – our favorite out of the bunch…fresh and soft
Escolar – awful and chewy, tasted like the ocean…we had to spit it back out! For truly buttery Escolar, we suggest going to Midori or Musashino.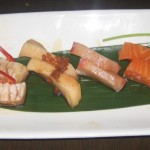 (3/10) Molten Chocolate Cake
This cake came with a scoop of coconut ice cream. The piece was very small and dry. It didn't come out hot, or even warm. And to top it all off, there was barely any molten part to our non-chocolatey tasting cake. Very disappointing! The few points that this dessert did receive is soley due to the creamy coconut ice cream.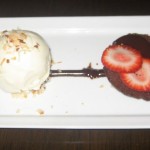 (9/10) Service
We went on a weekend night and made reservations to be on the safe side. Both the hostess and waiter were courteous and efficient. Although it was a busy evening, our food was brought out in a timely manner. Several gestures the Imperia staff carried out had us surprised and impressed. When we mentioned we disliked the escolar, our waiter replaced it with 2 pieces of albacore since we enjoyed that one. Also, when we got our check, we found that the cake was on the house! Wonderful service…we only wish could brag about the food as well.
(8/10) Ambiance
Imperia is located downtown and looks unassuming from the outside. There is valet and street parking available which can be very difficult.  The dark interior is large and very stylishly decorated. It could be described as trendy Asian contemporary. There are 3 different areas depending on your mood; A traditional dining room, an elegant lounge with sofas, and a sushi bar. This place can be good for couples or groups, especially for happy hour. Overall, the service and ambiance did dazzle, but the food left a lot to be desired.