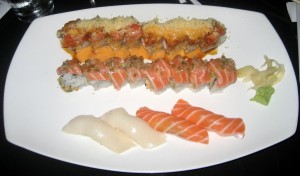 Restaurant: Tomo Dachi Sushi
Location: Northwest, 4101 W Parmer Ln, Austin, TX 78727 Map
Phone: (512) 812-9472
Price: $12-$24
Hours: Mon-Fri 11:30am – 2:30pm, 5:30pm – 10pm, Sat 12pm – 10pm
Food (6/10)
(9/10) Ex-girlfriend Roll
Crab, avocado, spicy tuna with halibut tempura and spicy mayo. This roll is the right amount spicy and crunchy and delivers an explosion of flavor in your mouth! We couldn't really taste the fish, but that won't stop us from ordering it again.
(8/10) Sex on the Beach Roll
Yum yum with fresh salmon on top. By the way yum yum at Tomo is actually chopped scallops. The roll was tasty, and seemed to have a hint of lime juice in it which added a fun dimension to it.
(7/10) Angry Beaver Roll
Lots of Jalapenos, spicy crab, spicy tuna, with tempura flakes sprinkled on top. This one will have your mouth burning…but in a good way! We could taste the fish in this one and it was yummy.
(4/10) Dancing Eel
Spicy tuna and shrimp tempura topped with eel. Although it sounds fancy, this is a simple roll without sauce, and the eel on top was very dry. The eel didn't taste bad, but didn't quite taste right. Definitely skip this roll.
(9/10) Yellowtail Sashimi
Yellowtail with serrano pepper and cilantro on it. Fresh and tasty, we thought this dish was delightful.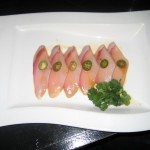 (6/10) Salmon Toro Sashimi
This fatty salmon was good, but not as buttery as a piece of salmon sashimi should be. On the plus side, it was fresh and soft.
(6/10) Escolar Sashimi
The escolar was fresh, but the underside was slightly chewy. The sashimi pieces at Tomo are smaller compared to other restaurants, and pricier. We highly recommend trying the escolar at Midori or Musashino.
Service (6/10)
It was a busy Wednesday night, so we took that into consideration. The waitress is the wife of the owner – she is pleasant and got everyone's orders right. There was a delay when asking for refill or ordering more food. Like most sushi restaurants, they are not able to split the bill, even for large groups. All in all, the service was average.
Ambiance (9/10)
This a very small, casual place, with bar seating and a tables. Since it is in a strip mall, parking is not an issue. It has a hip, loungy feel to it, with House/80s music playing in the background. The decor includes an embedded-rock counter and low lighting. Tomo can be a boisterous place where everyone, including the sushi chefs seem to be having a good time. For this reason, it may be better for groups rather than couples. Although the prices are high and the potions are small, the sashimi is pretty fresh and the rolls are unique.