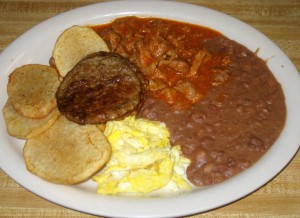 Restaurant: Joe's Bakery & Mexican Food (Coffee Shop)
Location: East Austin, 2305 East 7th Street Austin, TX 78702 Map
Phone: (512) 472-0017
Price: $6-$8
Hours: Tues-Sun 6:30am – 3pm, Mon – Closed
Food (9/10)
(8/10) Joey Rocha Plate
Two eggs any style served with carne guisada, potatoes, beans, sausage or bacon and two flour or corn tortillas. Holy Moly Guacamole – this is a lot of food! We could have easily split this plate and left content. Let's start with the meats…the carne guisada was tender, and the sausage patty was delightful. The eggs were plain, the beans were tasty, the round potatoes needed a little ketchup, but the tortillas were perfect! This plate has a lot of parts to it, and they all complement each other really well.
(9/10) Chicken Quesadilla Plate
Quesadilla with chicken, cheese, pico de gallo and guacamole. Served with rice and beans on the side. Often times restaurants compromise quality when they give large portions. This is not the case at Joe's, and this dish represents quantity as well as quality. The white meat chicken is soft and flavorful, and the pico and guacamole taste fresh. The quesadilla was overflowing with processed cheddar cheese and while we're huge cheese fans, this was a bit too much. The Mexican rice is one of the best we've encountered anywhere…wish we knew how they seasoned it. Order this entrée and your tummy will thank us!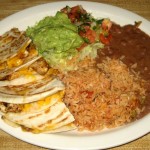 (8/10) Miga Taco con Todo and Potato & Egg Taco
The miga taco con todo (with everything) is stuffed with tomatoes, onions, jalapeños and cheese. Both of these tacos were good, but the miga taco emerged victorious. The ingredients were obviously fresh, and the homemade tortillas were soft, warm and fluffy. Ever seen the movie "Gone in 60 Seconds?"  So were these delicious tacos! Be sure to add the spicy and tangy table salsa, otherwise it may be a bit on the dry side. These tacos have a slight edge over the ones at Juan in a Million.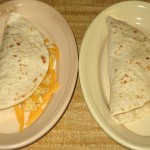 Service (8/10)
We came on Sunday around brunch time and were seated immediately. As we looked around, we saw that it was packed solid! We also noticed that over half the patrons consisted of Mexican clientele – a good sign. If we didn't get the last open table, there probably would have been a 20 minute wait. Our waitress was sweet and took our orders graciously. She gave us updates on our wait-time for the food. It did take a good 20 minutes to come out, but that is expected in any busy eatery. We happily munched on the complimentary chips and salsa. There appeared to be many waiters/waitresses working – which was good since we were eating during peak hours. When our food came out, it was well worth the wait. Our check came without a delay, and we didn't feel rushed in the process either.
Ambiance (8/10)
Joe's Bakery has been around since 1962, and looks like it from the outside! On the other hand, the interior is well maintained. It's clean, has brightly colored walls, and a diner atmosphere. The walls are lined with many decade old pictures and shows how Joe's has evolved over time. There are tables or booths, but you will probably get first available depending on when you visit. Parking is available in a lot on the side of the restaurant. When you walk in, you are greeted with a small but functional bakery in the front. The cookies look scrumptious, but we didn't have room for them this time.  Joe's Bakery is inexpensive, has great food, wonderful service and deserves two huge thumbs up!